Yay, the season of outdoor get-togethers and yard games is upon us!  (Memorial Day, Fourth of July, Labor Day, and more.)  For my family, it started with Mother's Day, when all of us sibs converged on Mom's house for the weekend.  One of my jobs was to bring bean bags for the Cornhole game.  My brother made nice wood Cornhole boards, and I made a new set of bean bags.
Cornhole is a totally awesome game for tailgaters, festival goers, and family get-togethers.  It is a bean bag toss where you try to toss the bag through the hole in a board 20+ feet away.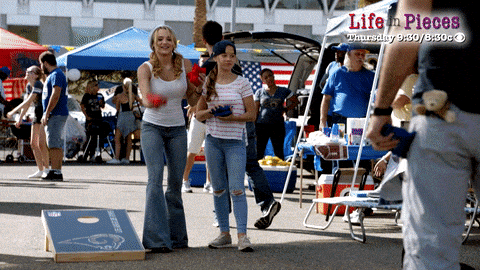 The boards can be purchased or custom made.  Boards can have really lovely designs.  Here is a monogrammed set available on Amazon.
The popularity of the game is evident from the range of products available on Amazon.
The bags can be purchased or easily homemade.
Bean bag specs:
A set of Cornhole bags is eight (8) bags–4 in one color, and 4 in a different, contrasting color.
The bean bags are square, made of cotton duck, or similar heavy duty fabric, and filled with feed corn or a synthetic material that resembles corn in weight and consistency.
Each finished bag should be 6 inches x 6 inches, and weigh 16 ounces when filled.
The internet has numerous tutorials on making Cornhole bean bags.   Do a search on Google and YouTube, and you'll find some excellent instructions.
So, this post is less a tutorial, and more a compilation of tips I've picked up from making the bags.
Constructing the bags:
Start with 7″-7.5″ fabric squares.  You'll need 16 squares for 8 bean bags.  Err on the side of cutting the squares larger, not smaller:
Stack two squares, right-sides together and sew all sides with a 1/2 inch seam allowance, leaving a minimum 3-inch opening on one side, for adding the corn.
[Stitching lines and opening:]
Reinforce the seams!  Reinforce by adding a second row of stitching in the seam allowance.  Then zig-zag or overlock the edges for even more reinforcement.
[Alternatively, reinforce by sewing the edges with French Seams.  Tutorial here. ]
Then turn the bags right side out and get ready to fill them.
Filling the bags…
Whole corn for the filler can be purchased at a farm store or feed store.  The price is usually less than $10 for a 40-50 lb bag of corn.  I buy it at this regional store. https://www.atwoods.com/atwoods-whole-corn-40-lbs.html
Freeze the corn for 24-48 hours, to kill any little bugs and things that might be waiting to come out.
Before weighing, sift the corn through a colander to eliminate as much of the corn dust and other 'stuff' as you can.  Then measure out 15 – 15.5 ounces of corn for each bag.  The other .5 oz or so will come from the weight of the fabric.
With a funnel, load the measured corn into the bag.
A funnel made from a plastic gallon container works well because it has a big enough opening for the corn to pass through.  A standard kitchen funnel doesn't have a big enough opening.
To close off the bag, push the corn down in the bag as far as it will go, and then secure it there with pins or a long needle.  For this, I prefer to use a long 'doll needle'.  The 5″ needle is easy to insert, and the one long needle holds everything in place.  (Actually, a doll needle comes in handy for so many things, that I recommend keeping one in the sewing kit.)
The picture below shows how the doll needle holds the corn back from the stitching area, to give you room to maneuver the open end of the bag under the presser foot.
That little bit of extra room in the top of the bag is important not just for room to sew, but also for the finished bag.  Bags stuffed too tight with corn can potentially burst on impact.
⇒Remember to reinforce the closure with a second row of stitching, and maybe even a third row.
Get creative with the bags!  Try patterns and fabric paints.
Then, you are ready to play!
The bags (and extra corn) should be stored in a rodent-proof container.
Additional tips on bags and peace brought to you by John Lennon of Bag.