There's a lot of conversation about measles these days, in the US anyway.  Here's my story….
I got miserably sick with fever, and then a rash started showing up.  Mom took me to the doctor.  The bewildering diagnosis was measles.  It was bewildering because–
No one gets measles (or so I thought); and
As a child, I had been vaccinated against measles.  My immunization records confirmed it.
The assumption was made that the vaccine failed, or the pediatrician's staff had noted the immunization in my records but forgot to actually administer the vaccine.
It was the most miserable I've ever been in my life, and scary.  
There were the typical symptoms of being sick–Achy and miserable all over, nose, throat and relentless cough; no energy for anything but bed rest.
Itchy, burning rash–The rash covered my entire body, and itched and burned like mad, day and night.
High Fever

—

persistent, deadly high temperatures.
Ice baths–The high fever had to be controlled with intermittent freezing cold ice baths.
Night sweats–I learned to love them, because it meant the fever was breaking, or something like that.  Confession:  I still love night sweats to this day, because I remember the relief it brought.
The misery lasted about a month, with 2+ weeks being absolute round-the-clock hell.
The rash made me really ugly.
The rash was thick, soft and red, and covered my entire body; face, arms, legs, and torso.  Visualize the worse case of acne, chicken pox and poison ivy ever seen, and then fill in any open spaces with more rash.
My dad teased me about how bad I looked and asked if I was going on a date. (Yeah, thanks, Dad. :p )
The rash didn't disappear when the other symptoms finally did.  It was basically a massive number of sores that took their own time to heal.
Even after the sores healed, the rash left dark, blotchy shadows on my face and body, under the skin.  It took weeks and weeks for the shadows to fade away gradually.
I could have infected lots of other people because I didn't know I had a highly-contagious, potentially deadly virus. 
The 16-year-old me did all of these things on a regular basis:
Worked at a fast food restaurant
Went to school every day
Went shopping (tried on clothing, shoes and jewelry, and tested makeup)
Went swimming with friends
Hung out at friends' homes
Ate at restaurants
Dated boys (and kissed them)
Cared for my toddler brother at home (feeding, dressing, child's play, etc.)
My mom was pregnant at the time with our baby brother, or she got pregnant soon after that.
Who knows where I came in contact with the measles virus, but the list above indicates it could have been anywhere.  Kids and teenagers are constantly in contact with the world.
From the Mayo Clinic on how measles is spread:

Measles is a highly contagious illness caused by a virus that replicates in the nose and throat of an infected child or adult.

When someone with measles coughs, sneezes or talks, infected droplets spray into the air, where other people can inhale them.

The infected droplets may also land on a surface, where they remain active and contagious for several hours.

You can contract the virus by putting your fingers in your mouth or nose or rubbing your eyes after touching the infected surface.

About 90 percent of susceptible people who are exposed to someone with the virus will be infected.
When I finally healed, it was complete.  I was lucky.  Some common complications from measles are dangerous and/or permanent.
From the Mayo website on common complications from measles:

Ear problems.  One of the most common complications of measles is a bacterial ear infection.  Permanent hearing impairment can result.  
Bronchitis, laryngitis or croup. Measles may lead to inflammation of your voice box (larynx) or inflammation of the inner walls that line the main air passageways of your lungs (bronchial tubes).
Pneumonia. Pneumonia is a common complication of measles. People with compromised immune systems can develop an especially dangerous variety of pneumonia that is sometimes fatal.
Encephalitis. About 1 in 1,000 people with measles develops a complication called encephalitis. Encephalitis may occur right after measles, or it might not occur until months later.
Pregnancy problems. If you're pregnant, you need to take special care to avoid measles because the disease can cause preterm labor, low birth weight and maternal death
Did I mention having measles was the most miserable I've ever been in my life?  It was.  Scary, too.  I don't want to ever feel like that again.  I wouldn't wish it on anyone.  
Can I get measles again?  I asked my doc that this week, and the answer was "maybe".  My choices are to get a test to see if I have the antibodies, or skip the test and go ahead and get the vaccine.  I've decided to get the test first, mainly to satisfy my curiosity.  Stay tuned….
More information on measles: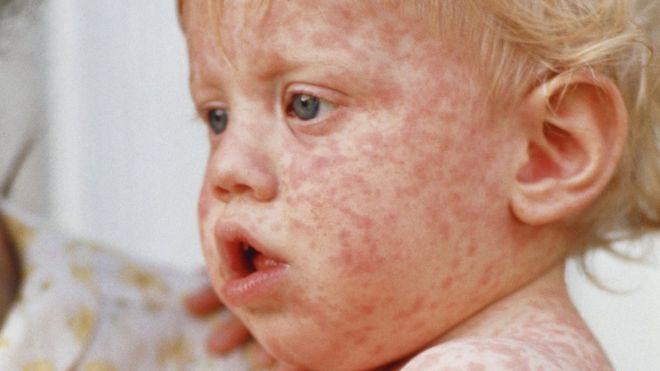 Next post shall be a return to more fun topics.