For people located in the US, like me, there are limited viewing options for this awesome BBC series, The Great British Sewing Bee.  But I put up with those annoyances because I love this show so much.  For a quick intro, here is the trailer for the past season–Season 4:
After an excruciatingly long wait, Season 5 premiered this month!  Here is the entire hour-long Episode 1 of Season 5 on Youtube.  My advice is to watch it now, because like other GBSB episodes, this quality upload will likely disappear soon from Youtube.  Which also means, parts of this post will disappear.
The sewing contestants who have appeared on the GBSB are from a wide variety of backgrounds and ages.  Many are self-taught.  Some of the older participants have spent their lives sewing for themselves and their children.
While I'd love to have the show's workshop and haberdashery, I would be crippled by the time pressures!  How do they do it with a show host yelling at them that they are almost out of time???
As the screenshots below indicate, the contestants design and produce amazing garments in just 2 or 3 hours; sometimes less time than that.
What happens to the contestants?  After their stint on the show, my impression is that most of the contestants go back to their regular lives.  But at least one, Tilly Walnes, has parlayed her skill and participation on the show into a successful business.  She has an inspiring website for beginners and experts alike.  The patterns Tilly has designed for sale in her shop are great.  I purchased her "Coco" dress pattern, and now [almost] three Coco dresses later, I've purchased three more of her patterns.  Hopefully the new patterns will all soon become fun garments in my closet.
When to watch:  The GBSB episodes are broadcast weekly on BBC, on Tuesdays at 9pm UK time, which is 3pm Central time in the US.  Soon after that, start checking Youtube for an uploaded episode.  It may take a few hours, or days before one appears.  Warning:  Choose carefully among the Youtube offerings, and by that I mean steer clear of the dodgy videos that require you to click a link outside of Youtube to watch the episode.
GBSB imdb link:  https://www.imdb.com/title/tt3010856/
We really need to be able to watch The Great British Sewing Bee on TV in the US!  I've inquired with our local PBS station, and they made inquiries, and were told succinctly that it is not available in the US and may never be available here.  Commence temper tantrum.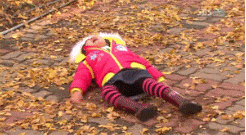 UPDATE!  Here is Season 5 Episode 3, aired Tuesday, February 26, 2019.
They are doing vintage 60s-70s garments, using vintage machines and playing great background music from the period.  There's my sewing machine!
And they ventured into Punk!  "Anarchy in the sewing bee!"